If you are a music lover there is no doubt you are craving live music at this point in time and boy was there an incredible live show on Saturday night July 10 as Lee Rocker of the Stray Cats ROCKED the town of San Juan Capistrano with a capacity crowd at The Coach House. Fans were there early and very enthusiastic to be out and about at a live show after the Covid shutdow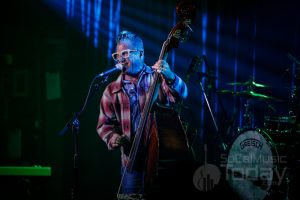 n spanning the last 12+ months. 
Southern California Rockabilly veterans the Hot Rod Trio opened the show and played 40 minutes of upbeat, foot stompin music and were followed by another SoCal band Moonshine who fused Blues and Jazz with their Rockabilly sound and had Lee Rocker's son on standup bass following in his Dad's footsteps. 
At about 9:45pm the lights dimmed and a brief intro played on the video screens bookending the stage with footage of the Stray Cats from back in the beginning of their career then the band took the stage – drummer Larry Mitchell, Matt Jordan on piano and acclaimed guitarist Buzz Campbell then Rocker hit the stage, picked up his trusty stand-up bass and the night began with a trio of Stray Cats songs –  "Stray Cat Strut", "Runaway Boys" followed by "Built for Speed". 
Rocker welcomed everyone and thanked them for coming out to the show. In addition to being an absolute master on stand-up bass he also played acoustic guitar on a few songs as his son returned to the stage to play bass. The setlist represented Rocker's full catalog and influences as he played several Stray Cats songs as well as his own solo material including cuts from his January 2021 release Gather Round all with a few covers sprinkled in for good measure. 
Rocker told the story of how Keith Richards showed up one night at the studio to record guitars for the Phantom, Rocker & Slick song "Men Without Shame" and how they indulged in "party favors" that Richards had brought with him all while photos of that night displayed on the video screens. Rocker's son appeared once again at the end of the show to play guitar on the last song "Rock This Town" and the encore "Rockabilly Boogie". Fans were seen dancing, singing, smiling and just having fun – probably the most fun in many months for most. As the song ended, Rocker simply stated, "It's great to be back – Thank You" and left the stage. 
Lee Rocker ROCKED THIS TOWN (San Juan Capistrano) on this night – a master craftsman on the stand-up bass, natural entertainer and a first-class human  – don't miss Lee Rocker when he hits your town. 
Set List: 
Stray Cat Strut | Runaway Boys | Built for Speed | Gather Round | That's Alright Mama / Blue Moon | Honey Don't | Miracle in Memphis | The Last Offline Lovers | Memphis Freeze | City of New Orleans | Ophelia | When Nothing is Going Right | Men Without Shame | Graceland Auction | I Won't Stand In Your Way | Doghouse Shuffle | Bulletproof | Rumble in Brixton | Rock This Town | Rockabilly Boogie
- Chris Loomis