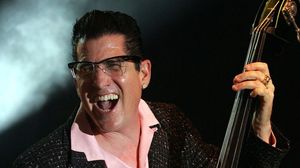 Massapequa native Lee Rocker, of the Long Island Music Hall of Fame trio Stray Cats, is releasing his first solo album in more than a decade. 
The bass player's "Gather Round," on Upright Records, can be preordered for its Jan. 22 release, he announced Thursday. The 10-track "Gather Round," his first album of original music since 2007's "Black Cat Bone," was written mostly during the coronavirus pandemic. 
"My wife Deborah and I hit the road in our Airstream and crisscrossed the country from California to New York and back," Rocker, 59, born Leon Drucker, said in a statement. "We rolled through 20 states from north to south and from east to west. In addition to the pandemic, the presidential election was raging. I wrote songs and music and drove 6,000 miles. It's been a year filled with global disaster and uncertainty. It's also been a time of introspection and for me a time to re-imagine how to record an album under these circumstances." 
His band, consisting of Buzz Campbell, Larry Mitchell and Matt Jordan, "send me their tracks from remote home studios," he said.
-Newsday
https://www.newsday.com/entertainment/music/lee-rocker-solo-album-1.50088043