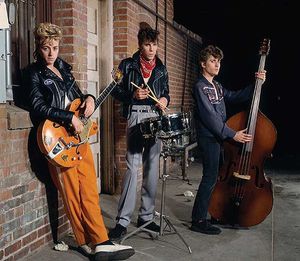 Stray Cats, the band that put Rockabilly music back on the record charts in the early-'80s, scored several big hits on both sides of the Atlantic thanks to a striking visual 1950's style brought "up to date" with exaggerated pompadours and colorful tattoos, as well as genuine musical chops that evoked the best players of rockabilly's original heyday. The music had a rhythm that was rock solid yet loose, the singer could croon or shout and the guitar playing demanded respect. It was elegant yet hard, jazzy yet completely rocking. Their music and style were like nothing happening in pop culture at that time. Formed by guitarist/vocalist Brian Setzer, upright bass player Lee Rocker and drummer Slim Jim Phantom in the Long Island town of Massapequa, NY, in 1979, the trio shared a love for Rockabilly music and after banging around New York and Philadelphia for a few months, in the summer of 1980, they were persuaded by a mutual friend to hop a plane to London where a rockabilly revival movement was just beginning to emerge. 
They were popular right out of the box with the release of their self-titled album in 1981 that scored three straight hits with "Runaway Boys," "Rock This Town," and "Stray Cat Strut." Deciding to test their luck in America, they signed with EMI America and in 1982 released their U.S. debut, Built for Speed, which compiled the highlights from their two British LPs. Helped by extensive airplay on MTV at the height of the anything-goes new wave era, "Rock This Town" and "Stray Cat Strut" both hit the American Top Ten, over a year after their British chart peaks. As a result, Built for Speed was a smash, and the Stray Cats were seen as avatars of retro style. Their second American album, Rant n' Rave With the Stray Cats, appeared in 1983 and produced another Top Ten hit in "(She's) Sexy + 17," as well as a Top 40 entry in the doo wop-styled ballad "I Won't Stand in Your Way." 
The Cats had clawed their way all over the globe from 1981 to 1984 when they decided to go their separate ways for a while.  In mid-1988, the three felt the time was right to bring it back again and reunited until 1992 when they split a second time.  A one-off reunion show in California in 2003 created such a good vibe between the three guys that they decided to mount a month-long summer tour of Europe to celebrate both the Rockabilly trio's 25 year career and the 50th birthday of rock and roll in the cities where it all started for them. So much excitement was generated with the 17 show sold-out tour that is was decided that one performance would be documented and released as a live DVD and album. Rumble In Brixton was recorded at the sold out show in London at the legendary Brixton Academy where the atmosphere was electric, and the energy was vibrant, almost dangerous.